Growth as a 3 stage process
LEVEL 1. VISION OF THE LONG-LASTING GROWTH
Global diagnostic and strategic reflection with the owner of the enterprise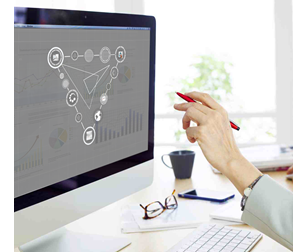 The stable growth is ensured by healthy development of 3 main business components:
Relationships with needs (Are there contacts whose problems can be solved?)
Business administration (How well  the processes in the company are administered?)
Loyal environment (Government, financial institutions, suppliers etc.)
This stage involves the analysis of multiple internal and external elements that affect the enterprise, such as:
Financing (venture capital, aid agencies and/or grants, microcredit, financial institutions, and others)
Alliances (new opportunities thanks to the strategic partnership)
Constituent situation (legal structure, fiscal structure, business model, intuition on the vision and mission)
Restriction possibilities (legal diagnostic, fiscal diagnostic, business diagnostic, etc)
Strategic reflection (Improvement of the position, COM-model, diversification, strong mission and vision)
And others
By analysing the situation as a whole, it is possible to identify strong aspects for the advantageous position on the market as well as the week points to be improved over time.
LEVEL 2. VISION OF THE ORGANISATIONAL EXCELLENCE
Create, Establish, Grow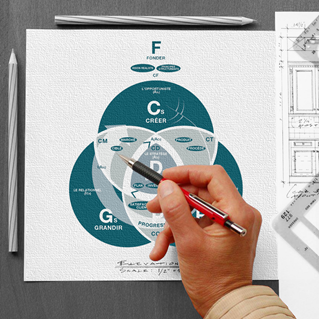 This operational stage strives to bring the best possible administrative practices into the company. Our services on this level include, but not limited to:
Management (strategic planification, organizational development, operation plan, integration of efficient processes, etc.)
System (project management, web-software, web-orders, product estimates, etc)
Engineering (development of new projects, implementation of new methods)
Procurement (numerous contacts with the suppliers of fabrics, composites, mechanical systems, electric parts)
Production (capacity to perform welding, machining, cutting, weaving, composite manufacturing)
Services (additional value for the customers: installation, delivery, complains management, etc.)
LEVEL 3. VISION OF THE STRONG MARKET POSITION
COM-Analysis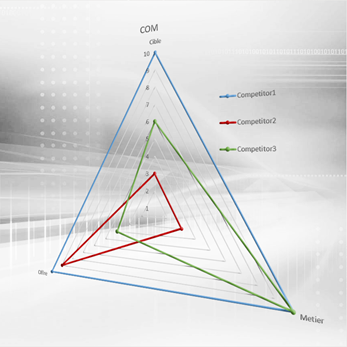 Marketing activities of  many companies are often limited to communication tasks such as production of brochures, leaflets, etc. Even though, those are extremely important, strategic marketing tasks should not be neglected. Advanced marketing practices should include:
Market research (market environment, competition, market trends, segmentation, positioning, qualification of opportunities etc.)
R&D (technology surveillance, development of the products, development of the technologies, models and prototypes, experimental tests, etc.)
Communication (message, communication channels, promotional materials, web-communication, technical documentation, etc.)
Marketing implementation (marketing plan, product launch, participation in the industry events, sales, etc.)
This step-by step strategic process on the 3 levels of visions ensures company's recovery, stable growth and long-lasting development.